I am writing this letter to my children as prompt that was started by Aashish of "Pappablogs" and I thought it would be great to take this up as I've so much to tell to my kids and I want them to remember some of it when they grow old.
So in this letter I wish to tell them about "Living in Pandemic".
My dear Aayera and Aaryaveer,
I hope this letter finds you in the best of health and you both are doing great in your respective field of work or studies.
Today I want to share with you a life experience that we all shared but you both were kids at that time and I doubt any of you would even remember it, may be Aayera could have a faint memory of it as she was 6 at that time but I doubt Aaryaveer, you would remember any of it as you were 3 and you stepped in to your 4thyear during this time.
A pandemic named "Corona Virus" or "Covid-19" had hit the entire world like a storm. The count of positive cases was increasing by the day and life had come to a standstill. In India, things started getting serious around February 2020 and in March the entire nation was in Lockdown. Everyone was in a house arrest and not stepping out for 2 reasons, 1. fear of virus and 2. fear of police ke dande….
As I am writing this, its September 2020 and we still are in a dire situation and there is not vaccine out as yet. But the pandemic has taught all of us a new meaning of life. What we took for granted is now not there. Puff!!! its all gone. No playing in the parks, no house-help, no staff, no holidays no mall visits and no meeting friends.
But you know what, its the poor and the middle class people who suffered the most. While big companies and conglomerates could bare the losses, it's the small shop owners and daily wagers who took the most beating. Paying rents got tough, small businesses chose to shut down and daily wagers, well they were in a plight.
Despite the Covid-19 situation and practicing social distancing, these daily wagers were gathering in crowds and hoards just to get a bus or anything that would help them go back home. And those who had not option, well they chose to walk it down. Yes, all the way to their natives. For miles and miles just to survive and face the crisis for which they were not even at fault for.
Now you are thinking why is Mom sharing all this with us now. Well the reason is that the Covid situation jolted us to reality. It taught us the real meaning of life which I wish for you two to value and practice for life.
We take our house help and staff for granted and crib for any leave that they take- but now we are doing everything on our own, though with a grin but yes we did manage it. This taught us to be responsible and not crib for petty issues. If you have to, take the baton in your hand and start running.
People were working from home and not travelling to office and while you may be saying "wow so cool, stay at home and work, no office", my dear kids, its was the toughest phase for all who had to go through it. With all the noise and commotion at home and kids and elders around, it's never easy to work. Also, with no house help coming in, your mom and dad and like them everyone else was managing the show at both the fronts. Office and home. Dad's attending office calls while doing the dishes and mom's on conference call while washing her child's poop. Yes we did that. This taught us, life is tough and we have to deal with it.
We humans tend to search for God in temples, mosques, churches and synagogues. But Covid-19 shut doors for these believers too. People had faith, they prayed but in their heart, staying at home. This taught us that God doesn't reside behind these doors, but in our hearts.
While home schooling is not a thing in our country, it was what you both did and every other child did. The sudden shut down of schools before the year could end and start of the next year in few months, was challenging for teachers, parents and for kids the most. For parents who said their kids would not spend time in front of the screen, were now making them sit and do online classes. I had a nightmare with you two and online classes. This taught us that any form of education, homeschooling or proper schooling is tough.
In fact the entire world is now online. Classes, summer camps, shopping, exhibitions and yes-even birthday parties and family get togethers. You know, while people seldom found time to call their friends and relatives far off, were now sitting on zoom calls and celebrating their birthdays, anniversaries and also baby showers online. Technology in this time brought everyone closer. You both also attended birthday parties of your cousin's staying abroad which otherwise was never thought of. Technology was always there, but it was now put to proper use. This taught us to respect technology and use it wisely and also stay connected with the family – crisis or no crisis.
People who always commented "She is a housewife what does she do the whole day but rest" now got a tight slap on their face. When there was no one coming in to help and and one had to do all the chores of house, yeh saval karne walo ko apni Nani yaad aa gai. While I am blessed with a husband who has always helped me in house chores, Covid or no Covid, there were some who took housewife's for granted. This taught us to respect every kind of work and most importantly respect housewives-it's the most unrewarding and thankless job that women do.
Master chefs of the world got a tight competition as every one suddenly took interest in cooking and baking. Social media was and still is loaded with people sharing their recipes and food that they have been cooking at home. Gourmet meals, which were only eaten at hotels, are now being made at home. (Wondering where they got all the ingredients from in lockdown, well even I am thinking the same.) I suck at baking. Its not my thing and while I tried to make some fancy dishes in the start but you two and the house drained me to the core and I stuck to basic and regular cooking and not testing my culinary skills. This taught us to make the best of the time we get to spend together as a family doing things that you love.
You both were in complete house arrest for nearly 7 months till we started stepping out a bit but with all safety measures and just going from one home to another.
Covid-19 showed a mirror to everyone who took life for granted and abused and misused nature and environment. But on the bright side, the sky is clear, no smoke, no pollution and no noise pollution. The oceans, seas and even lakes and ponds started being more clear with humans not polluting them. Sea creatures started swimming more freely without the fear of us humans. It was as if Mother Nature got a chance to breathe and revive itself. With all humans indoors, the nature was healing.
So my dear kids, 2 things I want you to remember;
Always look at the bright side of things. Life can take you in any direction with unexpected bends and turns, but you need to learn to thrive and survive. So adopt to the changes and don't sulk.
Be grateful before you ask God for what you want, thank him for what you have.
Live Simple, love well and take time to smell the flowers along the way.
Always and forever Your Mumma
Glimpse of our lockdown life
This blog is a part of #LBWP-Lets Blog With Pri season 2. Also read what my blogger friend Seema's blog "Book recos by my children" and Amritha's blog on "Wonders of Desi Cow A2 milk from DearCows" shared on their blog page.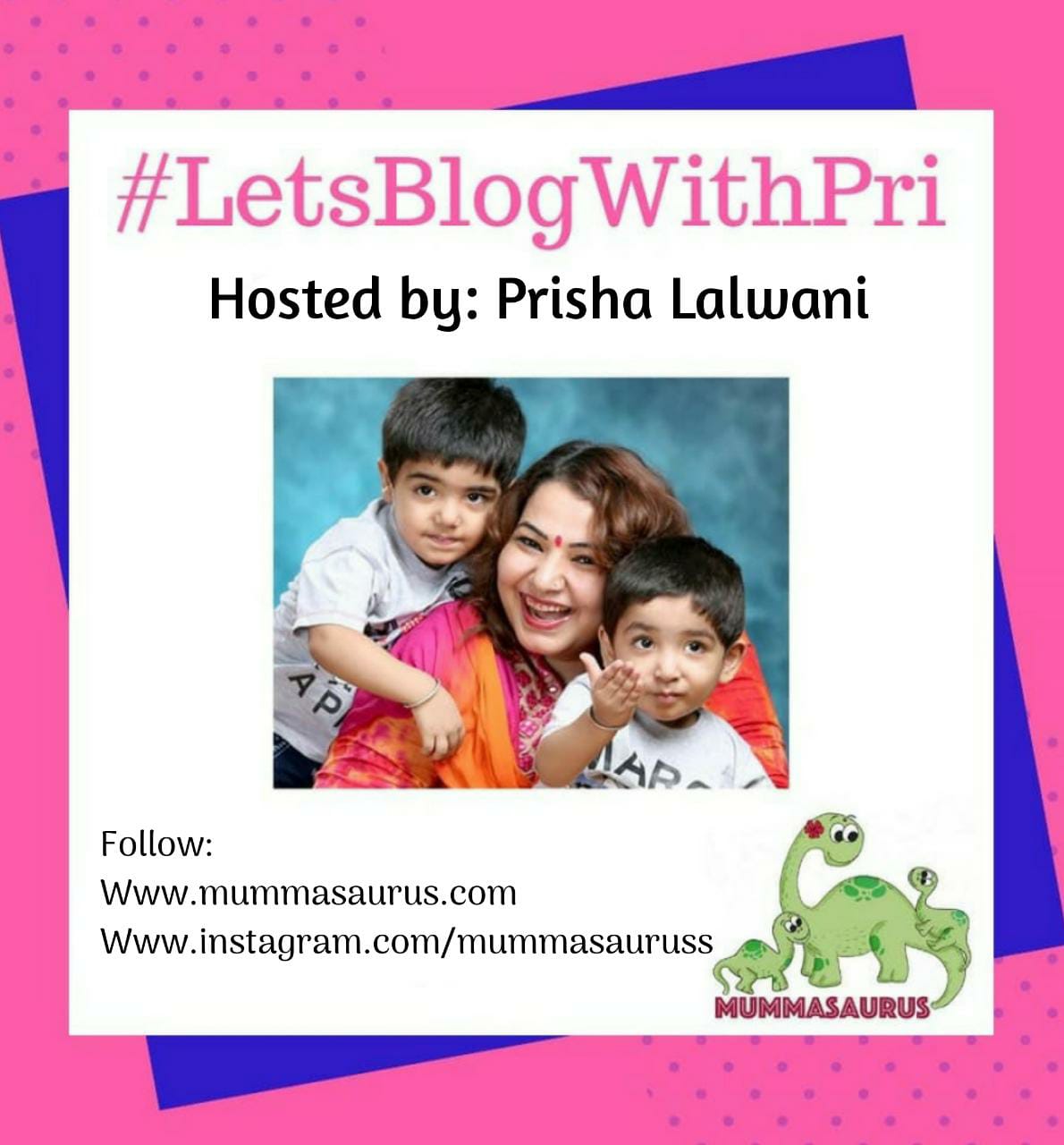 Hosted By : Prisha Lalwani Mummasaurus.com IG: @mummasauruss FB: /mummasaurus1